Through the Prism: Leadership Series Part I: Recommended Books on the Nature of Leadership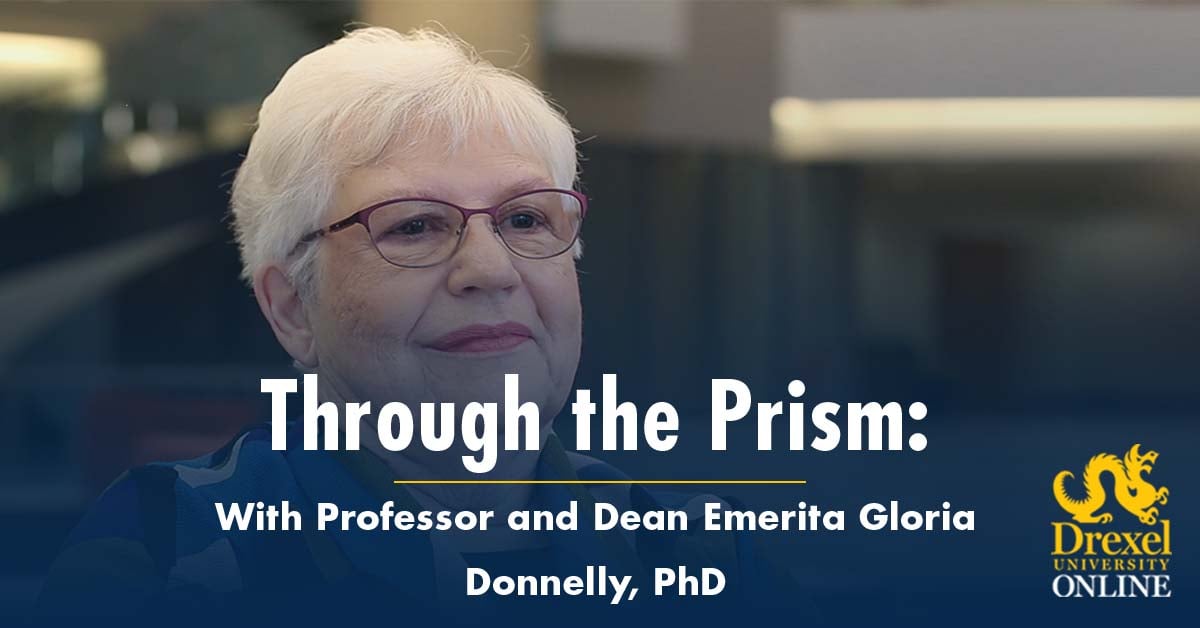 Wednesday, November 28, 2018
In this continuing series, "Through the Prism," Professor and Dean Emerita Gloria Donnelly shares insight, laughs, stories and tidbits in her own words.

Part I: Books on the Concept of Leadership
Whatever degree you are pursuing, writing a paper on leadership is likely to be an assignment in one of your courses. You are pursuing a degree to advance, to assume more responsibility, to provide service to clients or patients that is best practice and knowledge based and to work effectively with other professionals either as a team member or as the leader. Employee turnover and workplace environment are intimately connected to the quality of leadership in any organization. Therefore, studying the nuances of leadership is becoming increasingly important in programs of study. Over the course of my own career I have collected books on leadership that I consider classics and that I return to again and again as I encountered my own leadership dilemmas. The leadership books that follow are those that I consider basic to understanding the nature of leadership and its power to change self, colleagues and the systems in which we work. This focus on leadership and the associated works, is the first in a three-part series intended to deepen your knowledge and application of the principles of leadership in your own work and as a handy reference list when you are tackling that inevitable leadership assignment.

Bennis, W. and Goldsmith, J. (1997) Learning to Lead. Reading, Mass: Perseus Books. (A valuable workbook that takes you on a journey of self-assessment, pertinent to leadership. Warren Bennis is one of the world's leading experts on leadership and how it works)
Block, P. (1996) Stewardship: Choosing Service over Self Interest. San Francisco: Berrett-Koehler Publishers. (Offers a very different view of how leadership can work. Stewardship emphasizes accountability to the organization and to staff as well as a dispersion of power and influence throughout the organization.)

Collins, JC and Porras, JI. (1994) Built to Last: Successful Habits of Visionary Companies. New York: Harper Business. (This work explores the reasons underpinning long term success in eighteen visionary corporations. It is based on a six-year research project at the Stanford University Graduate School of Business. It attempts to answer the question, what makes truly exceptional companies different from their counterparts?)
DePree, M. (1989) Leadership is an Art. New York: Dell Publishing. (One of my favorite books on leadership. It is a personal, human yet practical account of leadership and followership. This author is passionate about leadership and what it takes to create an environment in which all can do their best work.)
Gardner, H. (1995) Leading Minds: An Anatomy of Leadership. New York: Basic Books. (This work explores the concept of leadership from the developmental point of view. Gardner examines the lives of different types of leaders and offers insights on the workings of leadership and how they developed their principles and style.)
Frick DM and Spears LC (eds.) (1996) The Private Writings of Robert K. Greenleaf: On Becoming a Servant Leader. San Francisco: Jossey-Bass Publishers. (Robert Greenleaf is known as the father of the empowerment movement in business leadership. His concept of the servant leader is a humanistic approach to leadership. His explication of the ethics of leadership is clear and profound.)
Kotter, JP (1996) Leading Change. Boston, Mass: Harvard Business School Press. (Kotter clearly differentiates leadership from management by suggesting that leadership is about change and management is about dealing with daily complexities. This work offers specific strategies for introducing and sustaining substantive change in organizations.)
Welles, JF. (1988) The Story of Stupidity. Orient, NY: Mount Pleasant Press. (A most unusual look at the concept of stupidity. Welles asserts that stupidity has nothing to do with intelligence. Stupidity is rather defined as the inability of a person to adjust their schemas to the changing contingencies of reality. Examples of stupidity from ancient to modern times are explored. Given the need for cognitive flexibility in leadership, this is a must read.)
Wills, G. (1994) Certain Trumpets: The Nature of Leadership. New York: Simon and Shuster. (This book explores the lives of individuals who exerted leadership in varying domains of life; diplomacy, the military, the church, sports, the arts and business. Wills strongly emphasizes the importance of followers in determining the success of leaders. He also describes types of leaders such as radical, charismatic, intellectual, traditional and saintly. This is a thought-provoking work on leadership that will help you to pinpoint your own style.)

The Leadership Assignment, Part II, will focus on women, power and leadership.