Through the Prism: Leadership Series Part II: Books on Women Leadership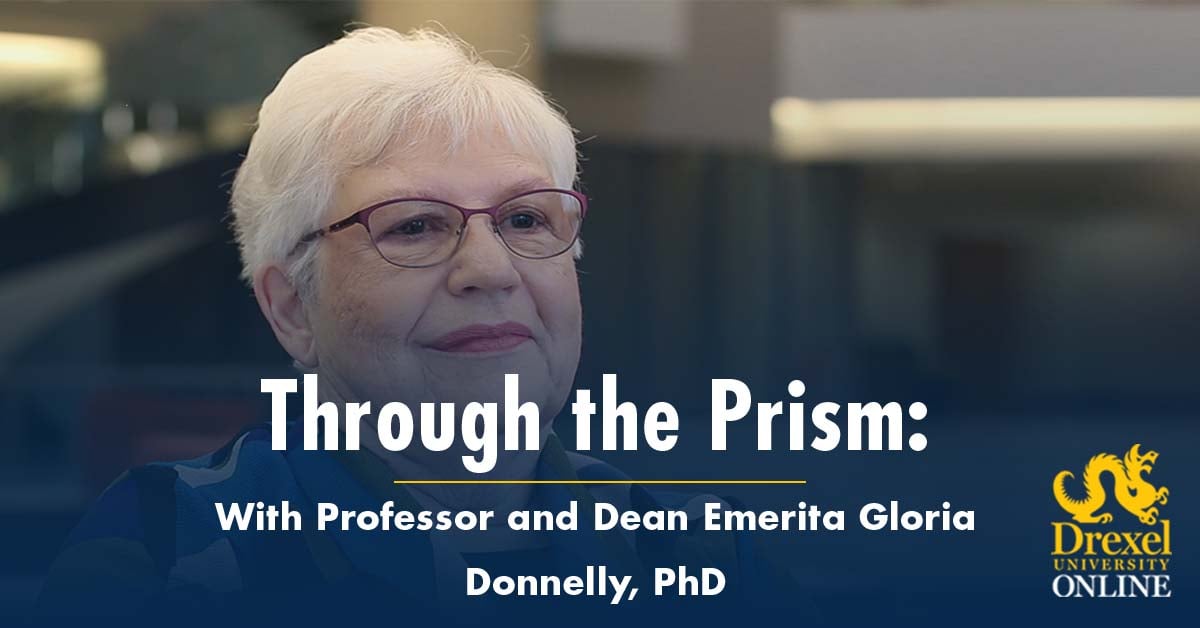 Monday, December 10, 2018
In this continuing series, "Through the Prism," Professor and Dean Emerita Gloria Donnelly shares insight, laughs, stories and tidbits in her own words.

Part II: Books on WOMEN IN LEADERSHIP
My mother always behaved as an equal to men, whether they liked it or not. My earliest memory, when I was five years old, is of the exchanges between my mother and the owner of the local butcher shop. Perched on one of two high stools next to the butcher block, I watched as my mother negotiated her purchases. Frank, the butcher, would dangle the chosen cut of meat over the scale and my mother would assert, "Trim before you weigh it!" Frank always complied, though he rarely did for other customers. The butcher shop encounters exemplified my mother's gender relationships. She dealt with men and women in the context of the moment; never deferring, always focusing on the goal or the communicative intent. She adeptly handled the misogynist family patriarchs with directness and humor. She did not defer to men; she treated them as equals, just as she did women. I learned from and emulated her behavior throughout my life and became an assertiveness trainer so that I could assist women, especially to resist the doormat posture or shooting from the hip.
We live in an age where gender relationships are seriously and, in some cases, painfully, recalibrating. Men think twice before giving women compliments. Women are unsure about how to respond to what may appear to be inadvertent sexist remarks. My prediction is that one of your professors will give you a writing assignment to reflect on the recalibration of gender roles in the workplace. Should you receive such an assignment, I am recommending that you look back, not only to your own development (or not) but also to the history of gender relationships for the past 2000 years and to the women, like my mother, who pioneered and field tested the notion of gender equality in ordinary and grand environments. Listed below are my favorite books on women and power, misogyny and feminism, and the stunning accomplishments of women who focused on the goal despite environmental obstacles. Use them in your course work and build your own library on gender relationships.
Beard, M. (2017) Women and Power: A Manifesto. New York. Liveright Publishing Corporation. (From Homer's Odyssey to the present, this author describes the stifling of women's voices, particularly in circles of power. Another "energizing" work!)
Bostridge, J. (2008) Florence Nightingale: The Making of an Icon. New York: Farrar, Straus and Giroux. (The best biography of Florence Nightingale among all of those that I have read. This is a realistic, rather than mythologized, study of the life, motivations, experiences and strategies of Nightingale who, more than any other health professional of her times, modernized care and care environments.)
Christianson, Scott (2012). 100 Diagrams that Changed the World. London, UK: Penguin Books (This amazing account of human creativity, from the earliest cave paintings to the invention of the iPod, features very few women's diagrams with a notable exception: Florence Nightingale's pie chart documenting evidence that her care giving and hygienic innovations in war hospitals dramatically decreased the mortality rate for British soldiers in the Crimean war.)
Holland, J. (2006) Misogyny: The World's Oldest Prejudice. (The best treatise on gender discrimination and the systematic marginalization of women's voices that I have encountered thus far. The roots of misogyny in ancient Greece and Rome are catalogued and then traced through the church-inspired witch hunts of medieval times to the Enlightenment that was not so enlightened, through Victorian times and through the age of "supermen" and the rise of the Nazis. It is a book that makes you angry and energized at the same time.)
Nightingale, F. (1859) Notes On Nursing: What It Is and What It Is Not, Commemorative Edition: Philadelphia: JB Lippincott, 1992. (Original printing, 1859) (This simply is the greatest nursing book ever written. Nightingale's insights about nursing care and structuring the care environment remain current and worthy of implementation in today's health care system.)
Ulrich, B.T. (1992) Leadership and Management According to Florence Nightingale. Norwalk, CT: Appleton & Lange. (A clever excerpting of Nightingale passages on leadership and management. Given Nightingale's global effect on health care delivery, her thoughts on leadership and management are important. Well organized and referenced.)
Have a wonderful holiday and look for my next two blogs on improving your writing!