Drexel Online's MFA Low-Residency Program hosts Authors to Aid Students with Career Growth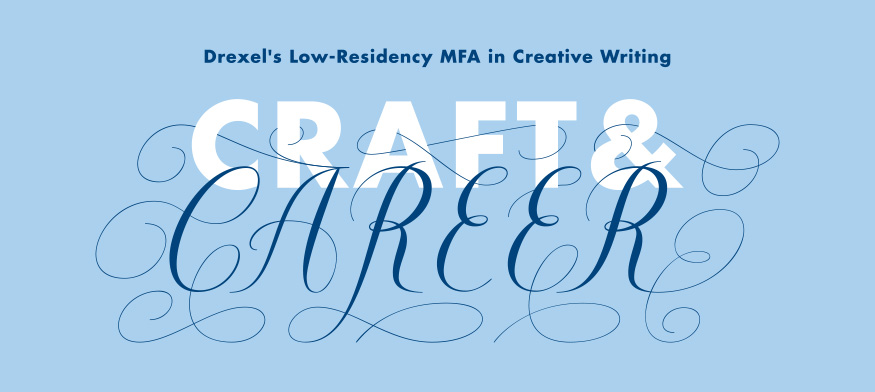 Monday, January 28, 2019
Writers around the world are sure they have an idea for the next great novel. But there's a lot more to getting a book published than a good plot. Too often, though, the very programs that aim to help writers polish their manuscripts don't prepare them for life after graduation. Candidates may graduate with a polished draft, but they often have no clue how to take the next step in their writing careers.
Drexel University's low-residency MFA in Creative Writing aims to change that. By hosting visiting authors and making both craft and career advice centerpieces of its residencies, the goal of the MFA is to prepare candidates with the skills and industry insight they need to work as professional writers.
The program will include three required residencies, each with a unique focus. An initial "craft residency" will take place in Philadelphia during candidates' first fall term, and will include writing workshops and the chance to interact with and receive career advice from visiting authors. A second residency will take place in Manhattan and will focus on career development. This includes meeting with publishers and agents to learn how to make a pitch more marketable. A final craft and career-focused residency will take place in Philadelphia before a candidate graduates.
And for those candidates looking for another residency and a European vacation all in one? An optional six-day residency in Collioure, France is also available as an elective.
The first visiting author will be the #1 New York Times bestselling author Chris Bohjalian, a critically acclaimed, award-winning novelist with 20 books to his name. During the craft residency, he is expected to teach a craft master class, hold a reading and give a talk that covers topics like career advice and civic engagement, a key feature of Drexel's program.
"Civic engagement is one of the core principles of our university, and we've made it an important principle of our MFA," said Nomi Eve, the director of Drexel's MFA. "We've built in ways for our MFA candidates to be civically engaged throughout their degree process. We were very purposely attracting authors to teach in our degree who are themselves very civically engaged. Chris Bohjalian will be talking to students about how, as an author, he finds it important to be civically engaged and how he's included civic engagement in his life all along."
That emphasis on civic engagement is what attracted Bohjalian to the program as well. "I've always loved the E.M. Forster quote: 'We all know that fiction is truer than history because it goes beyond the evidence.' Clearly, Drexel's program sees fiction's potential that way, too — and that's among the reasons why I am so pleased to spend some time there this year," Bohjalian said. "The reality is that much of my art is activism: my novels have focused on domestic violence, human trafficking, alcoholism and the Holocaust. Among the books of which I am most proud is The Sandcastle Girls, which has educated so many people around the world about the cataclysm that was the Armenian Genocide."
An emphasis on career opportunities post-graduation and industry knowledge is another cornerstone of the MFA, and a real differentiator for the program.
"From the very start of our degree, we're going to be putting tools into the hands of our students so that when they graduate they can make their way in the world of publishing, and hopefully get their work published and produced," said Eve.
The dedicated career development residency will be run by Ann Garvin and Erin Celello. Garvin and Celello co-founded "The 5th Semester," a program that gives writers a crash course on both craft and industry insight. This residency will focus on the modern publishing landscape and give candidates tips on pitching stories, social media strategies, promotion their work, financial information and more. They will also have the opportunity to meet agents and editors at a top New York publishing agency.
"A lot of other MFA degrees don't talk much to their students about careers. They spend most of the time talking about craft," said Eve. "But we really believe it's important that our students be immersed in craft and equipped for successful careers. Both are important – putting the words on the page and then getting those pages out into the world."