MS in Educational Administration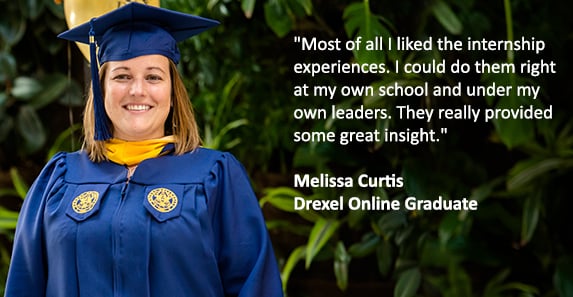 ---
Using state and national leadership standards, Drexel University's accredited online master's degree in Educational Administration is designed to prepare and mentor future elementary and secondary educational leaders with the practical skills and knowledge to become effective school administrators.
Program Options
MS in Educational Administration

Concentrations:

PA Administrative Certificate, Principal K-12*
Supervisor of Special Education Certification & Principal (K-12) Certification**
Supervisor of Special Education Certification (without Principal Certification)**
Non-certification track

PA Administrative Certificate, Principal K-12 Only
*Requires a state-issued teacher certificate
**Requires a state-issued special education teacher certificate
All five accredited programs are ideal for certified teachers and counselors who aspire to lead the education field to achieve students' 21st-century learning goals.
This performance-based PDE-approved program develops your ability to:
Collaboratively lead schools and communities to solve complex problems through a proven framework of leadership methodology
Educate students to promote and achieve tomorrow's educational standards
Mentor and coach teachers in instructional and assessment decision-making, using modern technological tools
Reflect on and practice new action and research
Actively Listen, Resolve Conflicts, Speak Publicly, Write Competently and Build Teams
The program has several campus events each year, including World Café sessions, leadership seminars and two orientation sessions. A webinar format is provided for distance learner participation.
The program culminates in an Action Research Project—a leadership portfolio of 14 Artifacts of Evidence directed toward applying higher standards in school activities that will help you to succeed on the PA Principal PRAXIS exam.
---
Drexel University offers a variety of Graduate Minors that can be added to any master's degree program.
State restrictions may apply to some programs.
Curriculum
This program is organized into four 10-week quarters per year (as opposed to the traditional two semester system) which means you can take more courses in a shorter time period. One semester credit is equivalent to 1.5 quarter credits.
Core Courses

 
EDAM 700
Leading in Urban, Rural and Suburban Settings
3.0
EDAM 701
Resource Management, Allocation and Entrepreneurship
3.0
EDAM 702
School Leadership & Decision Making
3.0
EDAM 705
School Law and Politics
3.0
EDAM 708
Integration of Technology with School Instruction and Management
3.0
EDAM 710
School Finance and Facilities
3.0
EDAM 712
School and Community Partnerships and Relations
3.0
EDAM 714
Instructional and Curriculum Leadership
3.0
EDAM 722
Evaluation & Assessment Competencies
3.0
EDAM 724
Mentoring and Collaborative Leadership
3.0
EDAM 726
Interpreting & Evaluating Research & Achievement Data
3.0
EDAM 728
Research Methodology for Action Research
3.0
EDAM 740
Action Research Project
3.0

Select a Track

 

School Principal PK-12 Certification Track (Four 1.5-credit Internship Courses)

 

EDAM 715

School Principal Internship: Technology
 

EDAM 716

School Principal Internship: Finance
 

EDAM 717

School Principal Internship: Leadership
 

EDAM 718

School Principal Internship: Relations
 
 

Professional Electives (Two 3-credit courses)

*

 
Total Credits
45.0
*Professional Electives are determined in consultation with your academic advisor
Admissions Criteria
A bachelor's degree from a regionally accredited institution
Undergraduate GPA of 3.0 or higher (graduate degree GPAs will be considered along with the undergraduate GPA)
For the Principal Certification option: A state-issued teaching or counseling certificate  
For the Supervisor of Special Education concentration: A state-issued special education teacher certificate  
Required Documents
With multiple ways to submit documents, Drexel makes it easy to complete your application. Learn more by visiting our Completing Your Application Guide.
A completed application
Official transcripts from all universities or colleges and other post-secondary educational institutions (including trade schools) attended
Two letters of recommendation, professional or academic

PA Administrative Certificate, Principal K-12: One letter of recommendation must come from the principal of a school where you've worked, and discuss your presentation skills and experiences in leadership roles in a K-12 school setting as well as skills that would have a strong bearing on your success as a school leader and administrator

An essay describing why you're interested in pursuing graduate study in this field

Include two paragraphs briefly describing your educational philosophy
PA Administrative Certificate, Principal K-12: Also explain how principals shape learning in K-12 schools

Additional requirements for International Students
Tuition
The tuition rate for the academic year 2018-2019 is $949 per credit. (A 25% tuition savings off Drexel's regular tuition rate of $1265 per credit)
This program is eligible for Financial Aid.
Special tuition rates available for Drexel University Alumni, Military members, and members of our Partner Organizations

These rates apply only to new online students and students being readmitted.
Tuition rates are subject to increase with the start of each academic year in the fall term.
All students must contact applyDUonline@drexel.edu within the first two weeks of the term to request tuition savings for which they qualify.
Special rates cannot be combined. If you qualify for more than one special rate, you'll be given the one with the largest savings.
When receiving special tuition plans with Drexel University Online, you may not combine them with other tuition benefits that may be available from Drexel University.
Academic Calendar
2018-2019 Academic Year
Previous Academic Calendar
2017-2018 Academic Year
Apply today for the MS in Educational Administration
Apply now to begin your application for obtaining a Drexel degree online!