Through the Prism: Managing Emotions in the Workplace
Thursday, January 11, 2018
In this continuing series, "Through the Prism," Professor and Dean Emerita Gloria Donnelly shares insight, laughs, stories and tidbits in her own words.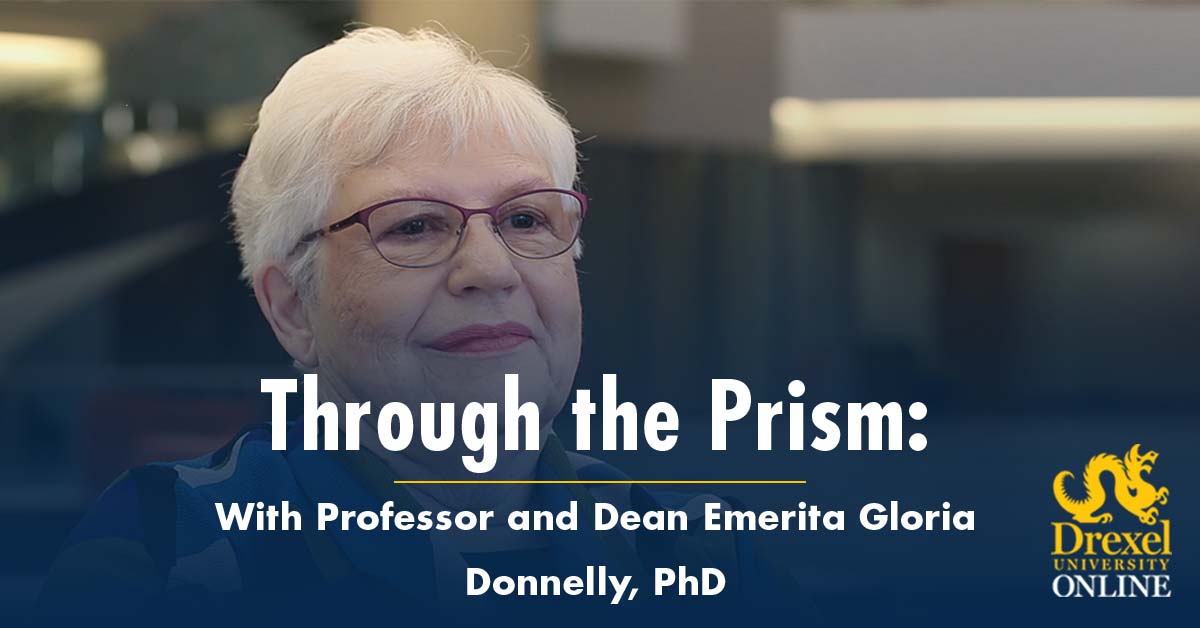 ---
Marta stays under the radar at work; it's safer that way. When questioned she will frame her response for self-protection; when asked for an opinion on a decision or policy she hesitates and then offers some generic, even innocuous statement. Marta rarely asks for help, for a change of schedule or for special consideration from the manager. She always performs high-quality work, but she is motivated more by fear than by a realization of her own competence. Occasionally, a work event will trigger Marta's temper which can be explosive at times, having perfected the art of "telling off" co-workers and even her manager on occasion.
From doormat to raging bull – Marta is missing the middle of the road response that might lead to a positive outcome. Fear motivates doormat behavior, "If I speak up, I might get fired or I might be ostracized by colleagues." This thought pattern, prompted by fear, is called catastrophizing, in other words, projecting the worst possible outcome to a reasonable, assertive act.
Vacillating from one extreme, the doormat, to another, the raging bull, takes a serious toll on you and your relationships. Developing rational and assertive responses is the goal of anyone who shuttles between fear and rage.
Strategies for Managing Emotions at Work
Focus on what your body signals during stressful encounters. Do you get shaky? Does your breathing change? Do tears well up? Do you blush? Deep breathing can ameliorate shakiness, and even the propensity to cry. However, blushing is more difficult to control but it can be used effectively to focus on your response to a negative interpersonal encounter. If you know you have blushed, point to your face and say, "My red face is only a small indication of how offended I am by your behavior."


Think about what you are feeling. Before responding to a negative encounter, ask yourself questions. Ask yourself, "Is it reasonable to be feeling so stressed?" "What are my rights in this situation?" "Can I delay responding with self-talk such as, 'I have the right to be treated respectfully,' Or 'I need to leave before I explode'?" Silent self-reflection is not only enlightening but can get you through a difficult situation relatively unscathed.


Walk away from the difficult encounter so long as it does not put anyone in danger. Excuse yourself and exit to the restroom or to a place where you can privately regain composure and abandon the aggressor.


Recognize the primary strategies of aggressors, blaming, accusing, demeaning or humiliating. Either walk away, delay responding or object to the strategy with a message that begins with "I," such as, "I disagree with your assessment," or "I am willing to have a fair discussion about this issue but blaming will not work." Make a list of all of the "I" messages you can possibly use in difficult situations and keep for future use. Just having them in your pocket will remind you of your interpersonal power and your rights.


If you continue to move from doormat to raging bull, get professional help. A brief series of counseling sessions either in a group or with a private therapist will assist you to recognize and manage your feelings and rehearse your responses. Behavior change is a choice, not a reflex. You are as responsible for your behavior as the aggressors in your life are for theirs.


Finally, get a copy of Alberti and Emmons' classic book, "Your Perfect Right: Assertiveness and Equality in Your Life and Relationships," now in its 10 edition, and keep it on your desk. It is a manual for dramatic life change!