Online Master's in Library & Information Sciences (MLIS)
Master of Science in Library and Information Science
Drexel University's online accredited MSLIS program is an industry leader in digital information management and ranked top 10 among library science programs nationally. Drexel's College of Computing and Informatics was named one of "America's Best Graduate Schools" by U.S.News & World Report (2014.)
The College of Computing and Informatics boasts top 10 recognition in Health Librarianship (#1,) Information Systems (#3,) Digital Librarianship (#6,) Services for Children and Youth (#9,) and School Library Media (#10.)
Library and Information Science was named one of the fastest growing fields in the computing and informatics industry: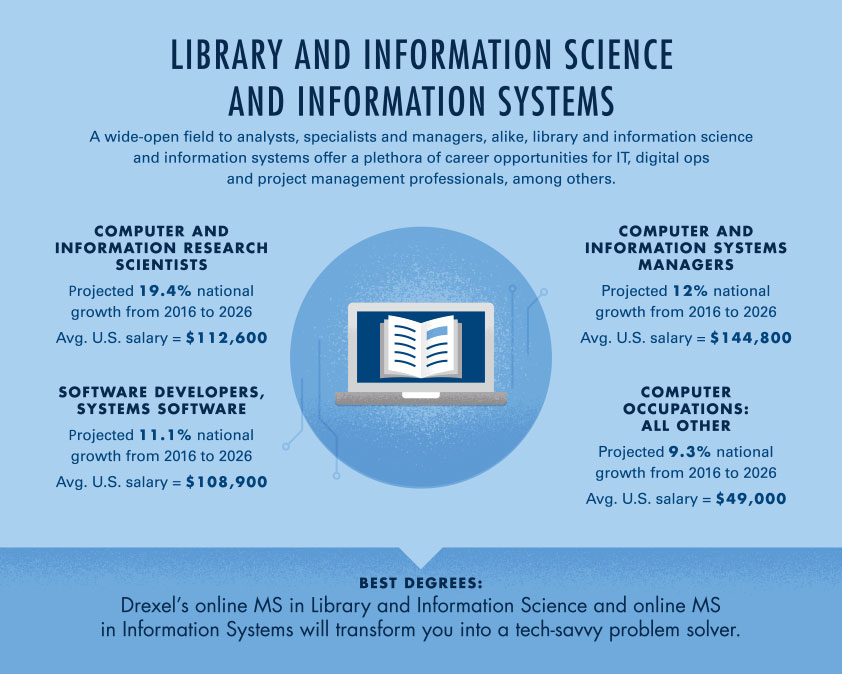 Program Features
Fully accredited by the American Library Association (ALA)
An innovative curriculum with a strong technological background and a focus on teaching career skills in all the aspects of information management
Taught by the distinguished faculty of Drexel University's College of Computing and Informatics
Highly interactive curriculum designed to challenge and engage students while remaining convenient for the working professional
Interested in becoming a librarian? The following steps outline the most common path:
How to Become a Librarian
A century ago librarians didn't need a master's degree to work. In the 1930s a bachelor of science in library service, a four-year undergraduate program followed by a one-year, 30-hour major was the standard. Over the next two decades the bachelor's degree would be replaced with a master's degree program that would become today's standard MLS degree.
7 Steps to Becoming a Librarian
Step 1: Research library science, types of librarians, and requirements
Consider your interests. Learn what types of librarians there are and about library science in general. Think about which direction you'd like your career to take. This is also the time to research any testing, licensure, or certification you'll need further down the road.
Step 2: Complete a bachelor's degree in any major
You can usually enter MSLIS programs with a bachelor's degree in any major.
Step 3: Gain some work-related experience
Look for part-time work if you can. Experience is one way to get your foot in the door or enhance your resume.
Step 4: Earn a master's degree in library science
Earn a MSLIS degree from an ALA-accredited program. MSLIS degree programs often teach you how to select and organize library materials. You'll also study research methods and strategies, online reference systems, and Internet search techniques.
Step 5: Obtain state certification or licensure
Pursue any state-specific certification or license. The state of Pennsylvania requires professional librarians to certify. School librarians need a teaching certificate with an endorsement in school librarianship among other things.
Step 6: Pursue a career
Pursue a career. There are different types of librarians. Many librarians work full-time but there are part-time positions as well. In 2017, the median annual salary for librarians was $58,520 per BLS.gov.
Step 7: Keep learning
Keep learning. In some states (PA is one), you'll need continuing education credits.
How long does it take to become a librarian?
Most MLS programs take from 1 to 2 years to complete. Counting the 4 years it takes to earn a bachelor's degree, it may take 5 to 6 years to become a librarian.
What qualifications do you need to be a librarian?
Many of today's employers look for librarians who hold an MLS or MSLIS degree from a program with American Library Association (ALA) accreditation.
In addition, some positions have extra requirements. A teaching certificate or a degree in another field are examples.
This is especially true for law, medical, and corporate librarians. Because these roles need specialized knowledge, employers may look for these librarians to have a master's degree, professional degree, or subject-specific PhD.
In the case of public-school librarians, there may be state requirements to consider. One of these is a teacher's certification. Another is to pass a standardized test such as the PRAXIX II Library Media Specialist Test.
Some states also require public school librarians to obtain certification. If this is your goal, contact your state's licensing board for details.
Types of Librarians
A librarian is a link between people and information. The kind of information they help to provide may depend on where they apply their skills. It can be for personal, professional, or research purposes.
User Services Librarians
As the title suggests, user services librarians help patrons conduct research. In their role, they might work with a specific group like university students, young adults, or children. They'll often help patrons find and make use of catalogs of print materials, digital libraries, or Internet search methods.
Technical Services Librarians
Technical services librarians are the people who order new library materials and archive to preserve older items. They also prepare and organize print and electronic library materials in so they are accessible to patrons.
Administrative Services Librarians
Administrative service librarians are library managers. Part of what they do is hire and oversee staff. Other duties involve preparing budgets and negotiating contracts for library materials and equipment. In some cases, they may need to do some public relations and fundraising activities.
Academic Librarians
Academic librarians work in postsecondary institutions where they help students, faculty, and staff. Because some campuses have multiple libraries, some librarians specialize in a one subject. They can then apply their knowledge to help others conduct research.
Public Librarians
Public librarians serve all members of the public within their communities. Sometimes they'll help patrons find books to read for pleasure. Other times they might help others with research, schoolwork, business, or personal interest. They may also plan library events like book clubs or story time for children.
School Librarians
Also called School Media Specialists, school librarians work in elementary, middle, and high school libraries. In their role, they teach students how to access resources. Also, they may help teachers develop lesson plans by finding material for instruction.
Special Librarians
Also called Information Professionals, special librarians work in areas like law firms, hospitals, businesses, museums, and government agencies. In these places, they'll serve the needs of the organization that houses the library. Because their work entails firsthand knowledge of a specific topic, they may need an additional degree in that topic. A few examples are:
Corporate Librarians
Government Librarians
Law Librarians
Medical Librarians
Apply to Drexel's Online MS in Library and Information Science program today!
---
Drexel University offers a variety of Graduate Minors that can be added to any master's degree program.
State restrictions may apply to some programs.
Curriculum
This program is organized into four 10-week quarters per year (as opposed to the traditional two semester system) which means you can take more courses in a shorter time period. One semester credit is equivalent to 1.5 quarter credits.
The Library and Information Science program assures a solid introduction to the field, logical progression of coursework, and wide variety of electives. You're required to complete the six core courses, totaling 18 credits. Completion of the MSLIS program requires a total of 45 credits. You may take any available INFO subject electives to complete the required number of credits in the program.
In exceptional cases, a student with previous coursework in an ALA-accredited program or in an information science program may petition for exemption from one to three required courses. This petition should be made at the time of application to the College and should include both a detailed statement of the reasons for seeking exemption and a copy of the official transcript, including course descriptions.
You may transfer up to 9 approved credits (3 courses) into the program.
Required Courses
INFO 505
Information Professions and Professionals
3.0
INFO 506
Users, Services, & Resources
3.0
INFO 507
Leading & Managing Information Organizations
3.0
INFO 590
Organization of Data and Information
3.0
INFO 591
Data and Digital Stewardship
3.0
INFO 890
Capstone Project
3.0

Electives

27.0
Total Credits
45.0
Specializations
Customize your degree toward your professional practice by completing specializations in the following areas:
Digital Technology Services

Introduces collaborative technologies that enable the design and implementation of digital services. Focuses on data analytics, content description technologies (such as XML), systems technologies, and user interface technologies.

Professional Interests: Data Analytics/Service Specialist; Digital Services Specialist; Digital Stewardship/Data Specialist; User Experience Specialist
Sample Courses
INFO 552
Introduction to Web Design
INFO 605
Introduction to Data Management
INFO 608
Human Computer Interaction
INFO 657
Digital Library Technology
INFO 659
Introduction to Data Analytics
INFO 633
Information Visualization
INFO 658
Information Architecture
Information and Data Services
Focuses on the developments of information and data service functions and products, such as intellectual access to physical and digital information resources, searching and resource organizing, knowledge representations and discovery, metadata schemes and tools, intellectual property rights, and electronic publishing.

Professional Interests: Archival Specialist; Knowledge Organization/Metadata Specialist; Scholarly Communications Specialist; Subject Specialist
Sample Courses
INFO 560
Introduction to Archives I
INFO 622
Content Representation
INFO 660
Cataloging and Classification
INFO 662
Metadata and Resource Description
INFO 750
Archival Access Systems
INFO 755
Electronic Records Management
User and Community Services
Analyzes the resources necessary to support diverse users across many types of information organizations in public and/or private settings. Surveys problems solved by project management, design, and customer service to support a variety of community information resource needs.

Professional Interests: Academic Library Specialist; Community Engagement, Education, and Outreach Specialist; Information Literacy Specialist; Health Informatics Specialist; Public Library Specialist; User Services Specialist; Youth Services Specialist
Sample Courses
INFO 552
Introduction to Web Design
INFO 649
Library Programming
INFO 650
Public Library Service
INFO 651
Academic Library Service
INFO 665
Collection Development
INFO 682
Storytelling
INFO 683
Resources for Children
Admissions Criteria
A four-year bachelor's degree in any major from a regionally accredited institution in the United States or an equivalent international institution
GPA:

Standard Admission: 3.2 GPA in a prior completed degree, BA/BS and above
Provisional Admission: 2.5-3.19 GPA with satisfactory GRE scores OR 2.5 GPA or above, employed in a related field, post degree. Subject to review. Provisional students must maintain academic progress and may work with an assigned faculty mentor.
Required Documents
With multiple ways to submit documents, Drexel makes it easy to complete your application. Learn more by visiting our Completing Your Application Guide.
A completed application
Official transcripts from all universities or colleges and other post-secondary educational institutions (including trade schools) attended
Scores from the General Aptitude Test of the GRE. Scores in the 50th percentile or above in all three sections are sought. Scores must be less than 5 years old.

Preliminary GRE waivers are offered if your cumulative GPA is 3.2 or higher for a conferred undergraduate or graduate degree. Also, if you are currently working in a profession related to the degree (ie. librarian) then the GRE requirement may also be waived. This is a departmental decision. Applicants in this situation are highly encouraged to get letters of recommendation from their employers demonstrating support for their degree work.

One letter of recommendation is required, two are recommended (academic, professional, or both)
Essay/Statement of Purpose

In approximately 500 words, describe what professional goals you hope to achieve, how an advanced degree facilitates that success, and anything else you want the Admissions Review Board to know about you. If you are currently employed in a related profession, please detail your experience.

Resume

If you are pursuing a GRE waiver for related professional employment, please submit your resume as soon as possible.

Additional requirements for International Students
Tuition
The tuition rate for the academic year 2018-2019 is $1265 per credit.
This program is eligible for Financial Aid.
Special tuition rates available for Drexel University Alumni, Military members, and members of our Partner Organizations

These rates apply only to new online students and students being readmitted.
Tuition rates are subject to increase with the start of each academic year in the fall term.
All students must contact applyDUonline@drexel.edu within the first two weeks of the term to request tuition savings for which they qualify.
Special rates cannot be combined. If you qualify for more than one special rate, you'll be given the one with the largest savings.
When receiving special tuition plans with Drexel University Online, you may not combine them with other tuition benefits that may be available from Drexel University.
Apply today for the Online Master's in Library & Information Sciences (MLIS)
Apply now to begin your application for obtaining a Drexel degree online!