MS in Library and Information Science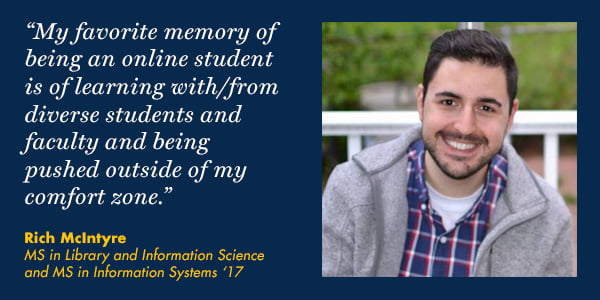 ---
Drexel University's online accredited MSLIS program is an industry leader in digital information management and ranked top 10 among library science programs nationally. Drexel's College of Computing and Informatics was named one of "America's Best Graduate Schools" by U.S.News & World Report (2014.)
The College of Computing and Informatics boasts top 10 recognition in Health Librarianship (#1,) Information Systems (#3,) Digital Librarianship (#6,) Services for Children and Youth (#9,) and School Library Media (#10.)
Upon Graduation, you will be able to:
Explain the foundational principles, professional ethics and values, and social and technological contexts within which various information professionals work
Identify and analyze the information needs of various communities (academic institutions, local neighborhoods, workplaces, schools) and design and implement library/information programs and services to meet those needs
Analyze and apply information policies and information-related laws (including the standards and guidelines of pertinent professional organizations) that advance the creative and ethical applications of information technologies and the delivery of information resources throughout society
Foster the core values of the profession (access, equity, intellectual freedom, privacy, social justice) in all programs and services offered in these communities
Encourage the development of information literacy in support of all areas of individuals' and communities' needs such as formal and informal education, career development, healthcare and financial planning, research innovation, and political and social engagement
Lead and manage information agencies, projects, and people through creative and effective approaches to planning, budgeting, policy making, fundraising, communication, and advocacy
Use research and data in sophisticated ways to demonstrate the value of the library and to help address individual and community challenges such as poverty and hunger, population shifts, economic development, and preservation of cultural heritage
Help individuals and communities to understand, appraise, organize, manage, and preserve digital assets available through a variety of formal and informal sources and to create and manage their own digital identities and materials effectively
---
---
Program Features
Fully accredited by the American Library Association (ALA)
An innovative curriculum with a strong technological background and a focus on teaching career skills in all the aspects of information management
Taught by the distinguished faculty of Drexel University's College of Computing and Informatics
Highly interactive curriculum designed to challenge and engage students while remaining convenient for the working professional
---
Drexel University offers a variety of Graduate Minors that can be added to any master's degree program.
State restrictions may apply to some programs.
Curriculum
This program is organized into four 10-week quarters per year (as opposed to the traditional two semester system) which means you can take more courses in a shorter time period. One semester credit is equivalent to 1.5 quarter credits.
The Library and Information Science program assures a solid introduction to the field, logical progression of coursework, and wide variety of electives. You're required to complete the six core courses, totaling 18 credits. Completion of the MSLIS program requires a total of 45 credits. You may take any available INFO subject electives to complete the required number of credits in the program.
In exceptional cases, a student with previous coursework in an ALA-accredited program or in an information science program may petition for exemption from one to three required courses. This petition should be made at the time of application to the College and should include both a detailed statement of the reasons for seeking exemption and a copy of the official transcript, including course descriptions.
You may transfer up to 9 approved credits (3 courses) into the program.
Required Courses
INFO 505
Information Professions and Professionals
3.0
INFO 506
Users, Services, & Resources
3.0
INFO 507
Leading & Managing Information Organizations
3.0
INFO 590
Organization of Data and Information
3.0
INFO 591
Data and Digital Stewardship
3.0
INFO 890
Capstone Project
3.0

Electives

27.0
Total Credits
45.0
Specializations
Customize your degree toward your professional practice by completing specializations in the following areas:
Digital Technology Services

Introduces collaborative technologies that enable the design and implementation of digital services. Focuses on data analytics, content description technologies (such as XML), systems technologies, and user interface technologies.

Professional Interests: Data Analytics/Service Specialist; Digital Services Specialist; Digital Stewardship/Data Specialist; User Experience Specialist
Sample Courses
INFO 552
Introduction to Web Design
INFO 605
Introduction to Data Management
INFO 608
Human Computer Interaction
INFO 657
Digital Library Technology
INFO 659
Introduction to Data Analytics
INFO 633
Information Visualization
INFO 658
Information Architecture
Information and Data Services
Focuses on the developments of information and data service functions and products, such as intellectual access to physical and digital information resources, searching and resource organizing, knowledge representations and discovery, metadata schemes and tools, intellectual property rights, and electronic publishing.

Professional Interests: Archival Specialist; Knowledge Organization/Metadata Specialist; Scholarly Communications Specialist; Subject Specialist
Sample Courses
INFO 560
Introduction to Archives I
INFO 622
Content Representation
INFO 660
Cataloging and Classification
INFO 662
Metadata and Resource Description
INFO 750
Archival Access Systems
INFO 755
Electronic Records Management
User and Community Services
Analyzes the resources necessary to support diverse users across many types of information organizations in public and/or private settings. Surveys problems solved by project management, design, and customer service to support a variety of community information resource needs.

Professional Interests: Academic Library Specialist; Community Engagement, Education, and Outreach Specialist; Information Literacy Specialist; Health Informatics Specialist; Public Library Specialist; User Services Specialist; Youth Services Specialist
Sample Courses
INFO 552
Introduction to Web Design
INFO 649
Library Programming
INFO 650
Public Library Service
INFO 651
Academic Library Service
INFO 665
Collection Development
INFO 682
Storytelling
INFO 683
Resources for Children
Admissions Criteria
A four-year bachelor's degree in any major from a regionally accredited institution in the United States or an equivalent international institution
GPA:

Standard Admission: 3.2 GPA in a prior completed degree, BA/BS and above
Provisional Admission: 2.5-3.19 GPA with satisfactory GRE scores OR 2.5 GPA or above, employed in a related field, post degree. Subject to review. Provisional students must maintain academic progress and may work with an assigned faculty mentor.
Required Documents
With multiple ways to submit documents, Drexel makes it easy to complete your application. Learn more by visiting our Completing Your Application Guide.
A completed application
Official transcripts from all universities or colleges and other post-secondary educational institutions (including trade schools) attended
Scores from the General Aptitude Test of the GRE. Scores in the 50th percentile or above in all three sections are sought. Scores must be less than 5 years old.

Preliminary GRE waivers are offered if your cumulative GPA is 3.2 or higher for a conferred undergraduate or graduate degree. Also, if you are currently working in a profession related to the degree (ie. librarian) then the GRE requirement may also be waived. This is a departmental decision. Applicants in this situation are highly encouraged to get letters of recommendation from their employers demonstrating support for their degree work.

One letter of recommendation is required, two are recommended (academic, professional, or both)
Essay/Statement of Purpose

In approximately 500 words, describe what professional goals you hope to achieve, how an advanced degree facilitates that success, and anything else you want the Admissions Review Board to know about you. If you are currently employed in a related profession, please detail your experience.

Resume

If you are pursuing a GRE waiver for related professional employment, please submit your resume as soon as possible.

Additional requirements for International Students
Tuition
The tuition rate for the academic year 2018-2019 is $1265 per credit.
This program is eligible for Financial Aid.
Special tuition rates available for Drexel University Alumni, Military members, and members of our Partner Organizations

These rates apply only to new online students and students being readmitted.
Tuition rates are subject to increase with the start of each academic year in the fall term.
All students must contact applyDUonline@drexel.edu within the first two weeks of the term to request tuition savings for which they qualify.
Special rates cannot be combined. If you qualify for more than one special rate, you'll be given the one with the largest savings.
When receiving special tuition plans with Drexel University Online, you may not combine them with other tuition benefits that may be available from Drexel University.
Apply today for the MS in Library and Information Science
Apply now to begin your application for obtaining a Drexel degree online!