Drexel student studies creativity and innovation far from home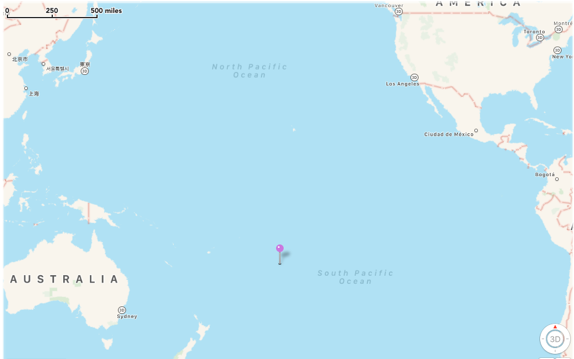 Rarotonga relative to the United States
Thursday, May 24, 2018
Darren Stoddart, a student in the School of Education working towards his MS in Creativity and Innovation, was recently awarded a grant from the Drexel/Torrence Center for Creativity and Innovation to travel to Rarotonga in the South Pacific to study creativity there. During his six days on Rarotonga, Stoddart conducted more than forty hours of interviews with four artists, a university administrator, a museum curator and a government official. In addition to the interviews, Stoddart had the opportunity to work alongside one of the artists, a master carver, every day for several hours which provided additional time to try to understand the role of creativity on Rarotonga. Here, he reflects on his experience.
---
When I started my online MS in Creativity and Innovation through Drexel University, I expected my courses to challenge the way I thought. What I wasn't expecting was to completely rethink what creativity and innovation meant to my life and my work and find myself on a remote South Pacific island.
In late 2017, I started a course called Global Perspectives on Creativity. After flipping through the textbook, I realized that no South Pacific countries were covered in the text. Interested in that omission, I did a little digging and found the book "Collective Creativity" by Katherine Gluffre, which led me to Rarontonga, one of the Cook Islands. I got in touch with Rod Dixon, the director of the University of the South Pacific—Cook Islands, who invited me there to learn more about creativity on the island.
I knew reading about Rarotonga—an island I don't recall havering ever heard of before—wasn't going to be enough. So, I reached out to my instructor, Dr. Fredricka Reisman, to see if Drexel had the funds to help support a trip to Rarotonga for some hands-on research. A few days later, my request was approved and I booked my ticket. After arriving in Rarotonga, Rod Dixon helped me make connections with several local artists and experts. To my surprise, they all had one thing in common: they didn't consider themselves creative. In fact, they didn't even believe that humans could be creative!
Mike Tavioni, one of the local artists I befriended, said, "'Create' is a wrong word because it ties to God. God creates; man innovates." To them, art is spiritual, and inspiration comes from the divine. Creativity on Rarotonga cannot be understood in the same way we use it in the West. Instead, they use words like "innovation" and "originality" to describe human endeavors. The creative spirit on Rarotonga isn't limited to things that would traditionally be considered art. Rather than throw out broken or unneeded appliances, for example, they may repurpose them for an entirely new use. For example, I helped Tavioni turn a broken toaster oven into a fruit dehydrator. To Tavioni, this wasn't creativity; it was just a normal thing to do on Rarotonga.
As I continue through my program, I'll think back on Rarotonga and approach the study of creativity and innovation with a new perspective. I may not think that creativity comes right from the divine, but there's one coincidence that makes me pause. When I married my wife in 1995, we used the image of the Tangaroa, a figure carved on Rarotonga, on our thank-you cards. When I showed the image to Tavioni, he replied, "When you used the Tangaroa image on your thank-you cards for your wedding 25 years ago, you committed yourself to coming to see me then." And for the record, I plan to go see him and my other new friends again.