BS in General Studies with a minor in Business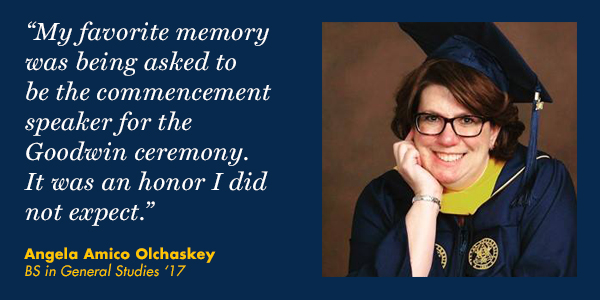 ---
The accredited online Bachelor's Degree in General Studies with a minor in Business is designed for working adults whose job and family commitments don't allow them to go "back to college" to complete their degree. It's the perfect solution if you've completed some college credits or earned an associate's degree at a community college and want to complete your bachelor's degree online, or if you want to transfer from another program you're currently attending.
Broadly based in humanities and liberal studies, the curriculum provides a solid foundation for those looking to enter or advance into management and business. This flexible, fully online program offers the exact same curriculum and Drexel degree as our on-campus programs, and can be completed at your own pace.
Program Features
Fully online
Electives can be customized to meet your individual needs and interests
Breaking the academic year into shorter 10 week terms helps you stay focused and on track. You can take a term off during a busy period at work without losing momentum.
Special tuition rates for alumni of Community College Partners as well as employees of partnering corporations.
Hear From Our Students
Recent BS in General Studies graduate, Angela Olchaskey, shares her experience as an online student at Drexel and how earning her degree has given her the confidence and perspective to create her own career path and excel within her career.
---
Drexel University offers Undergraduate Minors that can be added to any bachelor's degree program.
State restrictions may apply to some programs.
Curriculum
This program is organized into four 10-week quarters per year (as opposed to the traditional two semester system) which means you can take more courses in a shorter time period. One semester credit is equivalent to 1.5 quarter credits.
You can transfer up to 135 quarter credits (equivalent to 90 semester credits) from any accredited institution of higher learning as long as the grade is a C or better. Most credits will fulfill liberal arts or general classes.
College Requirements

 
GSTD 200
Lifelong Learning Theory & Practice
3.0
GSTD 491
Senior Project in General Studies
3.0

English and Speech Requirements

 
ENGL 101
Composition and Rhetoric I: Inquiry and Exploratory Research
3.0
ENGL 102
Composition and Rhetoric II: Advanced Research and Evidence-Based Writing
3.0
ENGL 103
Composition and Rhetoric III: Themes and Genres
3.0
COM 230
Techniques of Speaking
3.0

Mathematics Requirements

 
MATH 181
Mathematical Analysis I
3.0
MATH 182
Mathematical Analysis II
3.0
MATH 183
Mathematical Analysis III
3.0

Computing Requirement

*
 

Select one of the following:

3.0
CS 161
Introduction to Computing
 
CS 171
Computer Programming I
 
CT 220
Database I
 
CT 230
Web Development I
 
PRST 211
Computer Applications for Professionals
 
PRST 212
Creative Studies in the World Wide Web
 

Upper Level Course Requirements

 

As you choose electives from the categories below, a minimum of 36.0 credits must be upper-level courses (typically 300-level and above).

 

Natural Science Electives

 

Select 9.0 credits from the following: ANAT, BIO, CHEM, FDSC, NFS, PHEV, PHYS. Courses from other departments may be considered with advisor approval.

9.0

Specialization Requirements

 

Complete 45.0 credits within an area of specialization. The specialization is a set of courses built around a cohesive area of study, and must be approved by your academic advisor. The specialization will not appear on your transcript.

45.0

Liberal Studies Requirements

 

Complete 36.0 credits in Liberal Studies, covering a range of subject areas in the humanities and/or social sciences: anthropology, psychology, sociology, political science, history, philosophy, religion, literature and fine arts. (Arts history or appreciation courses, rather than applied courses.)

36.0

Free Electives

60.0
Total Credits
180.0
*Computing courses older than three years will not be accepted for transfer credit.
Admissions Criteria
Transfer Students

A minimum of 24 previous college semester credits (36 quarter credits) with a grade of C or better from a regionally accredited institution
GPA of 2.5 or above

First-Year Students

Between 0 – 23 previous college semester credits from a regionally accredited institution
Must have earned high school diploma or GED a minimum of 2 years ago

Non-Matriculated Option

Drexel University also offers a non-matriculated option, where you can take courses without being enrolled in a degree-granting program.
Required Documents
With multiple ways to submit documents, Drexel makes it easy to complete your application. Learn more by visiting our Completing Your Application Guide.
A completed application

Transfer Students


Official transcripts from all universities or colleges and other post-secondary educational institutions (including trade schools) attended

First-Year Students

Official high school transcripts
Official ACT/SAT scores no more than five years old
Official transcripts from all universities or colleges and other post-secondary educational institutions (including trade schools) attended

Additional requirements for International Students
Tuition
The tuition rate for the academic year 2018-2019 is $501 per credit. (A 40% tuition savings off Drexel's regular tuition rate of $834 per credit)
This program is eligible for Financial Aid.
Special tuition rates available for Drexel University Alumni, Military members, and members of our Partner Organizations

These rates apply only to new online students and students being readmitted.
Tuition rates are subject to increase with the start of each academic year in the fall term.
All students must contact applyDUonline@drexel.edu within the first two weeks of the term to request tuition savings for which they qualify.
Special rates cannot be combined. If you qualify for more than one special rate, you'll be given the one with the largest savings.
When receiving special tuition plans with Drexel University Online, you may not combine them with other tuition benefits that may be available from Drexel University.
Apply today for the BS in General Studies with a minor in Business
Apply now to begin your application for obtaining a Drexel degree online!