Online Post-Baccalaureate Certificate Program in Computer Science
Post-Baccalaureate Certificate Program in Computer Science
The online Post-Baccalaureate Certificate in Computer Science program is designed for professionals seeking to learn the theoretical and technical foundations necessary to tackle the latest challenges in computer science and related areas. The program may also serve as an entry point to Master of Science degrees in Computer Science, Software Engineering, and Cybersecurity.
Learn more about the 4 fastest growing jobs in the field.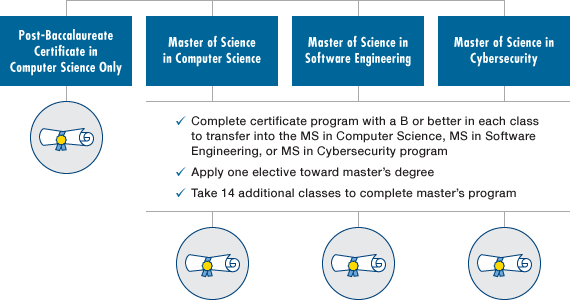 The Difference Between Computer Science and Software Engineering
While at first glance computer science and software engineering may seem like identical programs, there are key differences between them that will determine which program best fits your interests and career goals. In general, computer science degrees tend to take a broader focus on the theoretical and practical areas of computer science, while software engineering is more interested in the design, development and testing of software systems. Learn more about computer science vs software engineering degrees.
Choose the path that's right for you, and apply today!
---
State restrictions may apply to some programs.
Curriculum
This program is organized into four 10-week quarters per year (as opposed to the traditional two semester system) which means you can take more courses in a shorter time period. One semester credit is equivalent to 1.5 quarter credits.
Required Core Courses

CS 520
Computer Science Foundations
3.0
CS 570
Programming Foundations
3.0
CS 571
Advanced Programming Techniques
3.0

Elective Course

3.0

Complete one of the following:

CS 500

Fundamentals of Databases

CS 510

Introduction to Artificial Intelligence

CS 521

Data Structures and Algorithms I

CS 525

Theory of Computation

CS 530

Developing User Interfaces

CS 536

Computer Graphics

CS 540

High Performance Computing

CS 543

Operating Systems

CS 544

Computer Networks

CS 550

Programming Languages

CS 575

Software Design

CS 583

Introduction to Computer Vision

Total Credits

12.0
Admissions Requirements
A four-year bachelor's degree from a regionally accredited institution

GPA of 3.2 or higher
If other graduate work has been completed, the average GPA must be at least 3.2, including a B or better in each course
Required Documents
With multiple ways to submit documents, Drexel makes it easy to complete your application. Learn more by visiting our Completing Your Application Guide.
A completed application
Official transcripts from all universities or colleges and other post-secondary educational institutions (including trade schools) attended
One letter of recommendation, two suggested (academic, professional, or both)
Essay (500 words) on why you wish to pursue the program
Resume
Additional requirements for International Students
Certificate students interested in continuing at the Master's level must apply and be admitted to those programs separately. Completion of the certificate is not an automatic acceptance to a Master's program.
Tuition
The tuition rate for the academic year 2019-2020 is $1303 per credit.
This program is not eligible for Financial Aid.
Special tuition rates available for Drexel University Alumni, Military members, and members of our Partner Organizations.

These rates apply only to new online students and students being readmitted.
These rates apply only to fully online courses. Hybrid or on-campus courses may have different rates.
Tuition rates are subject to increase with the start of each academic year in the fall term.
All students must contact applyDUonline@drexel.edu within the first two weeks of the term to request tuition savings for which they qualify.
Special rates cannot be combined. If you qualify for more than one special rate, you'll be given the one with the largest savings.
When receiving special tuition plans with Drexel University Online, you may not combine them with other tuition benefits that may be available from Drexel University.
Academic Calendar
2019-2020 Academic Year

2020-2021 Academic Year
Apply today for the Online Post-Baccalaureate Certificate Program in Computer Science
Apply now to begin your application for obtaining a Drexel degree online!