Special Education and ABA Online Dual Degree
Dual MS in Special Education and Applied Behavior Analysis
Today's schools demand professionals trained in the science of human behavior and special education to help students with disabilities learn both academic and life skills. Drexel's one-of-a-kind Dual MS in Special Education and Applied Behavior Analysis program combines the skills needed to educate these students with the specialized field of applied behavior analysis, which includes established principles, practices, and tools applicable across a wide array of settings.
Graduates are prepared for positions such as:
Special Education Teacher
Behavior Support Specialist/Analyst
Autism Support Specialist
Autism Consultant Teacher
Program Features
The only dual-master's program of its kind
Online coursework provides the flexibility to learn when it's convenient for you
Opportunities to apply learning in field placement sites near you
Prepares you to sit for the BACB certification exam and to obtain a Pennsylvania Special Education Certification
The benefit of learning from the A.J. Drexel Autism Institute, which boasts renowned staff who are widely-published and respected in the field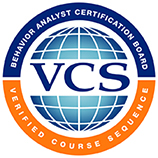 The Behavior Analyst Certification Board, Inc.® has approved this course sequence as meeting the coursework requirements for eligibility to take the Board Certified Behavior Analyst Examination®. You must meet additional requirements to qualify.
Archived Webinar
Related Programs
---
Drexel University offers a variety of Graduate Minors that can be added to any master's degree program.
State restrictions may apply to some programs.
Curriculum
This program is organized into four 10-week quarters per year (as opposed to the traditional two semester system) which means you can take more courses in a shorter time period. One semester credit is equivalent to 1.5 quarter credits.
A field component is required in most courses.
Required Courses

EDEX 543
Emotional and Behavioral Support of Individuals with Disabilities
3.0
EDEX 549
Teaching Individuals with High Incident Disabilities
3.0
EDEX 550
Teaching Individuals with Low Incident Disabilities
3.0
EDEX 552
Integrating Technology for Learning & Achievement
3.0
EDEX 555
Teaching Students with Autism Spectrum Disorder
3.0
EDEX 630
Fundamental Elements of Behavior Change
4.5
EDEX 631
Measurement and Experimental Design
4.5
EDEX 632
Behavioral Assessment and Functional Analysis
4.5
EDEX 633
Behavioral Interventions
4.5
EDEX 634
Consultation, Systems Change, and Supervision
4.5
EDEX 635
Ethical Considerations and Professional Conduct
4.5
EDEX 636
Applications of Fundamental Elements of Behavior Analysis
4.5

Concentration Courses

9.0

Elementary Special Education (Grades PreK-8)

EDEX 537

Special Education Law and Processes PreK-8

EDEX 545

Teaching STEAM in an Inclusive Pre-K to 8 Environment

EDEX 576

Special Education Practicum PreK-8

Secondary Special Education (Grades 7-12)

EDEX 538

Special Education Law and Processes 7-12

EDEX 565

Teaching Secondary Mathematics in an Inclusive Environment

EDEX 577

Special Education Practicum 7-12

Capstone Courses

EDU 780
Capstone Research
3.0

Select from one of the following tracks:

6.0-7.5

EDUL 780

Lesson Study Capstone Course I

EDUL 781

Lesson Study Capstone Course II

EDUT 780

Thesis Capstone Course I

EDUT 781

Thesis Capstone Course II

EDUP 780

Practitioner Capstone Course I

EDUP 781

Practitioner Capstone Course II

Professional Electives

15.0
Total Credits
76.5-78.0
Admissions Criteria
A bachelor's degree from a regionally accredited institution
Undergraduate GPA of 3.0 or higher (graduate GPA will be considered along with the undergraduate GPA)

If you do not meet this requirement, you're still encouraged to apply and your file will be reviewed on an individual basis by the Program Director
Required Documents
With multiple ways to submit documents, Drexel makes it easy to complete your application. Learn more by visiting our Completing Your Application Guide.
A completed application
Official transcripts from all universities or colleges and other post-secondary educational institutions (including trade schools) attended
Two professional letters of recommendation
Personal essay addressing the following:

Why you're interested in this field
Why you're interested in attending the program at Drexel University
Your career goals and how Drexel's program will help you achieve them
How this program relates to your previous education and/or work experience

Additional requirements for International Students
Tuition
The tuition rate for the academic year 2019-2020 is $978 per credit. (A 25% tuition savings off Drexel's regular tuition rate of $1303 per credit)
This program is eligible for Financial Aid.
Special tuition rates available for Drexel University Alumni, Military members, and members of our Partner Organizations

These rates apply only to new online students and students being readmitted.
These rates apply only to fully online courses. Hybrid or on-campus courses may have different rates.
Tuition rates are subject to increase with the start of each academic year in the fall term.
All students must contact applyDUonline@drexel.edu within the first two weeks of the term to request tuition savings for which they qualify.
Special rates cannot be combined. If you qualify for more than one special rate, you'll be given the one with the largest savings.
When receiving special tuition plans with Drexel University Online, you may not combine them with other tuition benefits that may be available from Drexel University.
Apply today for the Special Education and ABA Online Dual Degree
Apply now to begin your application for obtaining a Drexel degree online!